Steps to Take in the Event That a Rental Car Is Stolen While in Your Possession
Renting a car is the most convenient way of traveling when in a new location. Not only does it save you time getting around; it also saves you money and spares you from the hassle. It gives you the freedom to do what you want and go wherever you want to go without being stressed over schedules. However, if the rental car is stolen or damaged while under your care, it's your liability. There is insurance, of course, but it won't cover the inconvenience that it can cause. You can try to find it yourself, but unless the vehicle is equipped with a rental car GPS tracker, you would be wasting time and energy, not to mention resources.
If you find your unfortunate self in this predicament, do the following steps to quickly recover the stolen rental car.
Recovering a Rental Car Stolen While in Your Possession
Each year, more than a million automobiles are stolen in the US. Rental cars are no exception to this. In fact, such cars, easily identified by window decals or special license plates, have become favorite targets for thieves in recent years.
"It is a serious problem for us," said Seth Kaminsky, vice president of security for Avis Inc., headquartered in Garden City, New York.
Rental thefts are more common in states along the Mexican border, particularly Texas, and states with major ports like New York and Florida, said Jan M. Armstrong, executive vice president of the American Car Rental Association in Washington, which represents most of the major companies. Most often, these cars are sold intact—not for their parts—then shipped out of the United States to be sold.
"We had 3,500 cars lost in a month in Florida alone," Armstrong said. "There were 300 of them in a week in Detroit. The numbers are mind-boggling."
If you've been scouring the parking lot you last left the rental car in and couldn't find it anywhere, here's what you should do right away.
1. Notify the police.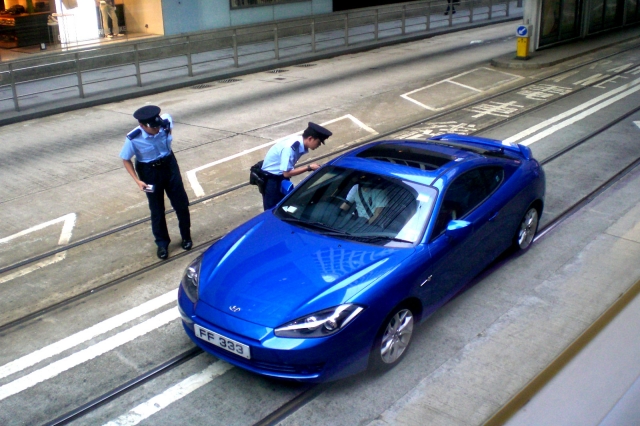 Upon discovering that the rental car is stolen, immediately report the incident to the police. Remain calm and explain that the vehicle in question is a rental car. Give the details especially information on personal belongings like cellular phone or luggage that the thieves may have taken along with the rented car. If the stolen rental car has a tracking device installed on it but you don't have the means to track it, the law enforcers can assist you to track the stolen vehicle.
2. Call the rental company.
The second step is to let the rental company know what happened. Rental companies require renters to report car thefts promptly, both to them and local police. Tell the rental company that you have already filed a police report and that you will be needing the car's identification numbers (i.e., license number and vehicle identification number) and tag. And if the stolen rental car has a GPS tracker, the rental company can easily locate it. That's one of the benefits GPS offers to car rental companies. Sometimes renters are free from liability for business-related rentals that are covered under a special arrangement between the employer and the rental company.
"Employees should check with their companies to get the details about agreements," said Armstrong of the American Rental Car Association.
Also, make sure you document the details of this conversation. Get the representative's name, title, and the call's reference number. Provide all information requested by the company. Don't forget to ask for an incident report.
3. Fill out the incident report form.
Whether or not you purchased protection from the rental car company, you'll need to fill the incident report form out. The sooner you can provide the form and the police report number to the rental company, the greater the chance the rental company will be able to recover the vehicle. Review the contract on the liability insurance you have chosen. Usually, car rental agencies have three types of coverage: passenger protection, the one that covers you and your passengers; liability, the one that covers you in case of accidents; and full coverage.
The last one is a bit expensive, but it offers you protection in the event that your rental car is stolen. You may need to verify with the rental car company whether you opted for any coverage with your rental. The one that you're looking for is called collision damage waiver (CDW) or loss damage waiver (LDW), which will limit or eliminate your responsibility for loss and theft. Third-party liability or personal accident insurance won't cover your rental car.
4. Contact the credit card company.
You may also want to call your credit card company if you used a credit card to rent a car but didn't apply for theft coverage. Many major credit cards also provide coverage for stolen or damaged rental cars. However, most of the time, credit card companies assist their client in finding secondary coverage offers. That means that if a renter has primary coverage, an automobile insurance policy, for example, the credit-card coverage comes into play if the primary coverage cannot or will not pay. If the claim is approved, the company may pay the deductible. For renters who do not own cars and therefore carry no individual car insurance, credit-card coverage may be used as primary coverage. In states in which the renter is held responsible for the full cost of the car, the company will pay the stolen car's full cost, a spokeswoman for American Express said. Or if you own a car, contact your car insurance agent and check if your current policy also includes rental theft coverage.
5. Request for a replacement car.
The rental company involved may be reluctant to rent you a replacement car afterward, even if you have paid for damages and theft waivers, until the company completes an investigation. Rental companies tend to make judgments case by case and may decide not to hold renters responsible if they took reasonable measures, like parking the car in a well-lighted garage. But the terms of the rental agreement are violated if a car is stolen because keys were left in the ignition.
For now, you can request for another rental car from other companies so you can resume your trip and attend important activities. But remember, without insurance, you will have a hard time renting another car.
Keep the Replacement Car Safe
Treat your rental car the same way you would treat your own car. As long as you're careful, you'd be very unlikely to have a rental car stolen. Here are a few simple tips to keep your rental car safe:
Park in well-lit and visible locations.
Always lock the car when unattended.
Take note of local warnings and signs around.
Keep keys safe and out of reach in your holiday accommodation.
Don't leave valuables on display.
Use GPS trackers to monitor the rental car's location.
Equipping Rental Cars with GPS Trackers
To keep your eyes on rental cars all the time, hide a GPS tracker inside the vehicle. Devices like Tracki let you track rental cars and practically anything valuable worldwide. Monitor the car's location and movement on your smartphone wherever you are.
Tracki is a tracking device small enough to fit onto the palm of your hand and hide anywhere in the rental car, with a body size of barely 2 inches. It's also one of the lightest GPS trackers out in the market, weighing only 1.4 ounces.
Real-time worldwide tracking.

Despite its size and weight, Tracki packs a powerful hybrid of GPS, GSM, Wi-Fi, and Bluetooth tracking technology to accurately locate the rental car anywhere in real time, whether they are indoors or outdoors.
Long battery life.

Tracki's battery life can also last you from two weeks up to a whole month in Battery Saver mode on a single charge. Better yet, Tracki can even be hardwired to the rental car so you won't have to worry about recharging again and again.
Geofencing.

Geofence alerts notify you when the tracker is somewhere outside your allowed area so you can track your rental car if it is suddenly out roaming in suspicious areas. Even rental car thieves can be caught in the act.
Multiple device tracking.

If for some reason you're tracking multiple rental vehicles at the same time, you can add and manage several of these tracking devices on a single view on your desktop, tab, or phone.
Protect that rental car now. Get yourself a GPS tracker before it's too late.
Most popular products
Tracki 2023 4G Model Mini Real time GPS Tracker.
$39.76
$82.43
(Save $42.68)
Waterproof Magnetic Box for GPS Tracker + 3500mAh battery extender
$53.52
$122.35
(Save $68.83)
12-24 Volt to Micro USB Vehicle/Marine power stabilizer and Wiring kit for Tracki GPS Tracker
$39.76
$68.76
(Save $29.01)
Join the Tracki Club & Stay Updated
Sign up for weekly and monthly updates